News & Events
Get information of all the latest happenings at Benzz Park here.
Posted on February 2016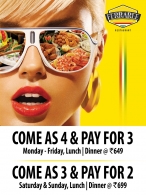 Come as 4 pay for 3 @ Ferraree Multicuisine Restaurant Rs.649 /-Nett on week days.
Posted on September 2014
Hotel Benzz Park is now ISO 22000:2005 certified 3 star business class luxury hotel situtated in the heart of the lively business city of Chennai.